Clocks Repairs
It is vital to the life span of a clock to make sure it is kept in proper running condition. This involves much more than just a squirt of oil (definitely not WD-40!) every year or so. A clock may run decades with little or no maintenance, but rest assure over time bushings become worn, pivots wear and serious damage occurs resulting in the clock striking erratically and eventually stopping.

A clock is an intricate complex piece of machinery. The gears are turning 24/7. All clocks need a good overhaul followed by simple maintenance every few years. We recommend a clock be OILED EVERY TWO YEARS AND CLEANED AND OVERHAULED EVERY 5 TO 7 YEARS. The older the clock becomes the more important scheduled maintenance becomes.
---
Watches Repairs
From new wristbands to watch crystals and batteries, get your watch repaired while you wait. We can work on any brand of watch, whether it is a family heirloom or the newest of luxury watches.
With more than 35 years of experience, you can count on our watch repair experts to have your watch in proper working order in no time!


Fast on-site watch repair service!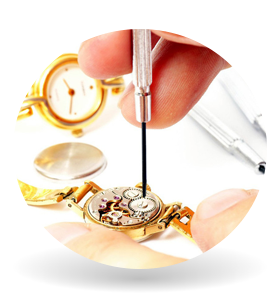 ---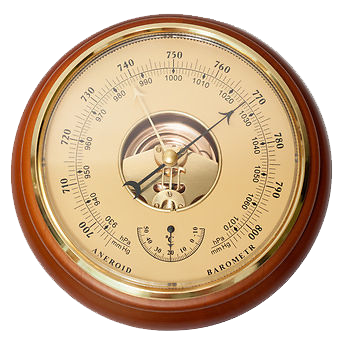 Barometers Repairs
Is your barometer on the blink? If so, we can repair it for you! We bring 35 years of experience dealing in and repairing antique barometers. We are able to repair woodwork, veneers, and inlay. The mechanisms of wheel barometers. Thermometers can be made to order to match an existing scale. Broken glass can be replaced. Brass parts can be repaired and polished. Scales and register plates can be resilvered if necessary by the hand rubbed method used 200 years ago.

Aneroid barometers are often broken by mishandling or corrosion and can be restored to life. If the front glass is damaged we can make new beveled glass parts and install the pointer hands. The mechanisms can be repaired and new vacuum capsules installed if necessary. Again, polishing is available.
---
Music Boxes Repairs
Spring wound music movements have been entertaining people for centuries, starting with very simple and small mechanical movements and growing into large and elaborate instruments, incased in some of the world's most beautifully decorated cabinets.

For the most part, there are two basic music boxes. The first and oldest type, is the cylinder box whose comb teeth are plucked by small pins protruding from the cylinder that create the wonderful music. The second is the disc music box, whose comb teeth are plucked by small star wheels driven by tiny protrusions extending downward from the bottom of the disc.